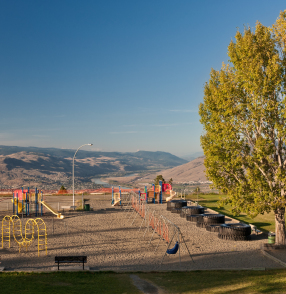 A more elevated outlook.
Big, bright and beautiful, The Villas on Van Horne Drive in Kamloops' popular Aberdeen neighbourhood were created to lift your spirits and elevate your lifestyle. Combining lasting value with tasteful aesthetics, these premium residences are the work of top professional architects and interior designers, constructed and finished to the high quality standards synonymous with its award-winning developer, Craftsman Ventures.
All three styles of Villa feature a subtle Californian influence with attractive, colour-impregnated stucco exteriors and ceilings. You'll appreciate the imaginative use of space, and never tire of the elegant, tasteful finishing. The location at the centre of the Aberdeen neighbourhood puts you close to schools, transit and recreational opportunities, and mere minutes from shopping, downtown and Thompson Rivers University. A city walkway and the Villas' own private pathway link the residences to 15 acres of adjoining city parkland, putting opportunities for recreation or exploration just a short stroll from your front door.
The Villas are fringed by lush landscaping featuring garden beds of decorative rock hosting a cascade of colourful plants. Those who value home-grown produce and don't mind getting their hands dirty will enjoy spending time in the Villas' private fruit orchard and resident-managed community garden.
Add to these many advantages the sweeping views of downtown Kamloops and the scenic Thompson Rivers below, and your new home is sure to secure a permanent place in your heart.
Get ready to move. Get ready to soar.